Observations - A pre-christmas day on Passo Tonale.
Passo Tonale is one of those north Italian ski resorts that due to its developments and topology is mostly visited by middle class families from all over Italy. In addition to those, some north European tour operators bring in groups of skiers with presumably little knowlegde about the alpine arc and its offerings. Undoubtedly, the wider landscape with the Adamello mountain ridges defines a wide white landscape as expected. Yet, Passo Tonale dug its own sort of pit-fall. In its own unconsciousness, it has constructed itself a layout of hotels and ropeway infrastructure spawned along one single main road, without having any well-expected heartful charming old town. By itself, this is nod a bad thing. Though, due to the expectations we all have, we feel somewhat uncomfortable accepting this given characteristic face of Passo Tonale. So, this once young child wasn't allowed to grew up its own generally acceptable identity, it remained a sort of unwanted child all over its history, a black sheep within our expectations of charming wooden facaded high mountain villages.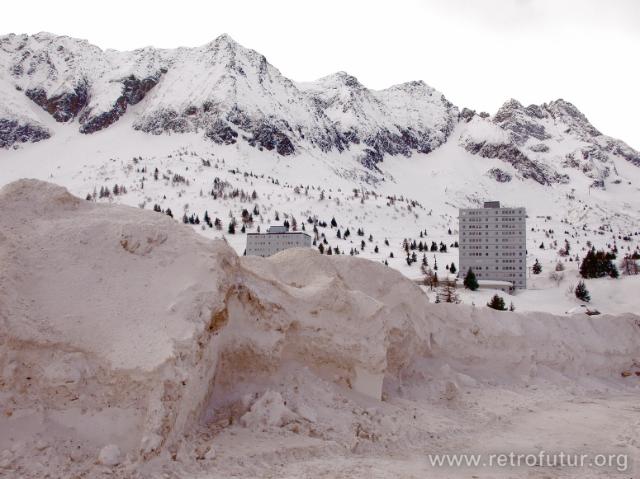 This said, it must be remarked that people working there do whatever they can to offer something compatible with clients modern expectations, of course all limited to their relative private microcosm, like friendly hotel outfittings or good Italian cuisine.
Behind the first and second row of hotels defined by a partly vanished modernity of apparently no type, a presumably infinite number of parallel ropeways spider their rays up onto the northern mountain side. The lifts start pretty gently, nearly horizontally in the wide open spaces. Reassuring its clients being well protected, moving maybe for their first time in new ski outfittings, all together in quantities like on Piazza Duomo of Milano before Christmas day. All colors of middle class fashion appear, children enjoy sitting in their red plastic "bob" sledges, surely under high surveillance of parents in Moon Boots bought in Milano for the moment. The walks never bring them away too far from their pole of living, the car park or the hotel. They happily stroll around on snow until without any destination. Until one family member comes up with the idea of immediately requiring a "Caffè" right now, bringing the walk to its terminus reaching one of the many italian bars spread along the road. Later, after a long day with one more walk, Italians meet in Ristoranti furnished with sparse style elements belonging more to some sort of globalized swiss,bavarian or tyrolean wooden taste. In the mean time, our European ski groups from northern Europe find themselves in typical Italian Pizzerias, enjoying pizza, beer, Grappas and/or Cappuccinos.